Venues
Built in 1878, Idlewyld Inn & Spa offers 21 unique guest rooms, restaurant, spa, and reception spaces for meetings and celebrations. Idlewyld Inn & Spa offers unparalleled history, style and comfort in the heart of the city. As one of London's landmark properties, the Idlewyld mansion blends striking architectural detail with modern elegance and outstanding service to create an unforgettable backdrop for your dream wedding.
They specialize in celebrations of up to 50 guests, and understand that the difference is in the details.
A southwestern Ontario landmark since 1872, the Elm Hurst Inn & Spa combines historic charm and scenic beauty with the modern amenitiestoday's travellers have come to expect from a premier boutique hotel. Your perfect day will come to life at Ingersoll's Elm Hurst Inn & Spa. Whether you envision an elegant affair or a country celebration, our unique reception spaces and professional, experienced staff will ensure that your special day is filled with joyful memories to last a lifetime.
They offer a choice of elegant reception rooms for groups of up to 230, most with spectacular views of the countryside, private balconies and picturesque outdoor terraces.
Or, hold your ceremony outside in our picture-perfect gardens.
You only need to visit FireRock Golf Club once to know that you have found the perfect venue for your fairy tale wedding. Set against the
magnificent background of our 18 hole championship golf course, FireRock's clubhouse is stylishly furnished with facilities to cater groups of 40 to
270 people.
Surrounded by grounds of impeccable beauty and nestled in the serenity of a lush natural backdrop, Windermere Manor provides the perfect setting for magical weddings,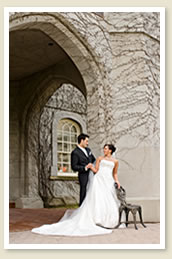 The Old Court House provides a breathtaking backdrop for your special day… a photographer's paradise, situated in one of the most picturesque locations in London… sitting majestically overlooking the Forks of the Thames River… a regal escape to the enchanted day of yesteryear.